---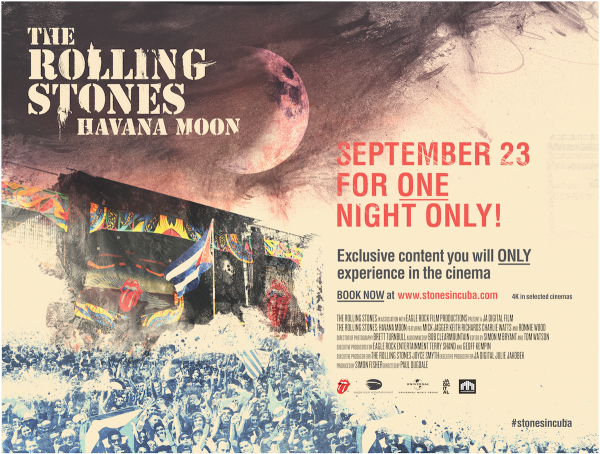 Movie-premiere of the historical concert held in Havana, the legendary The Rolling Stones!
Only once! [Only one session!
โœช September 23th, at 21:00 at Coin in Fountain!
New trend for music and movie lovers. Dreamed about the legendary band The ROLLING STONES? One of their historical and best concerts can be seen in Cave's cinema with the highest audio and video quality, and it is only 1 days to host a global movie screening and see the ROLLING STONES Havana, a recording of a concert in Cuba attended by 1,2 million listeners! The concert, which was announced by Jumpin 'Jack Flash', 'It's Only Rock' n 'Roll', 'Gimme Shelter', 'Brown Sugar', 'Satisfaction' and other hits during the Amรฉrica Latina Olรฉ 2016 tour. The record is accompanied by band members and interview with Mike Joger!
The Rolling Stones
Havana Moon
โœช
www.cavea.ge

/
www.stonesincuba.com
THE ROLLING STONES
HAVANA MOON
Genre: Record of musical concert
Director: Paul Dugdale
THE ROLLING STONES : Mick Jagger, Kitt Richards, Charlie Wats, Rony Wood
Premiere in Georgia:
23.09.2016
IMDB Rating: 5.0
Cavea East Point
Friday-
23 September
21:00
21 Lari
ENG 2D
Share it
Comments